People counting camera is widely applied in stores, with two camera, the accuracy rate is increased a lot.
People counting camera adopts integrated design which combines depth camera and calculation main control board, so as to minimize interference factors on camera image information to the lowest level, and possibly to the uttermost decrease construction wiring difficulty level. The one-button debugging mode can quickly complete environmental parameters collection required by People counting camera, with no assistance from other equipment terminals.
MRB HPC009 3D automatic people counting system is used in people flow control project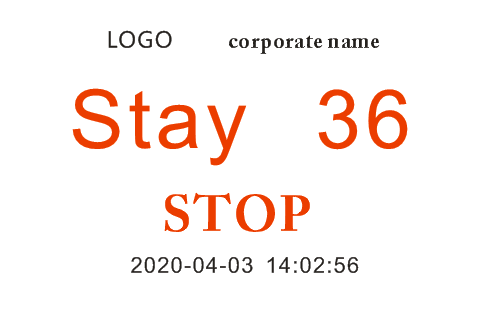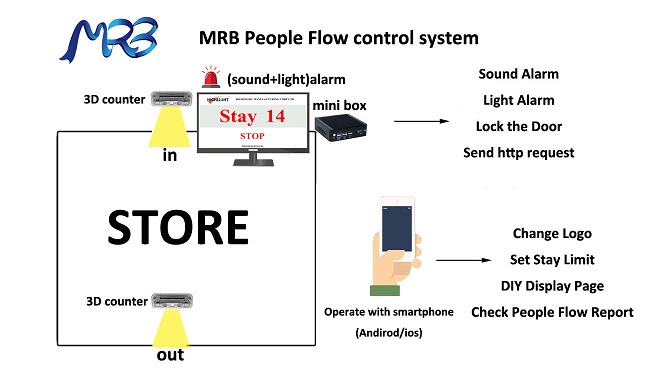 Automatic 3D People counting camera system provides rich data interface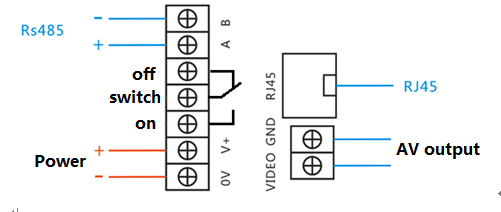 1. RJ45 network interface
Via RJ45 interface and People counting camera connection, client tool program views or sets working status and operates parameters. At the same time, HPC168 counter submits passenger flow data to the designated server in real time through RJ45 network interface.
2. Composite video output interface
3. RS485 interface or RS232 interface
Provides one-way RS485 or RS232 for third-party equipment to conduct data calls, customizes baud rate and communication ID code.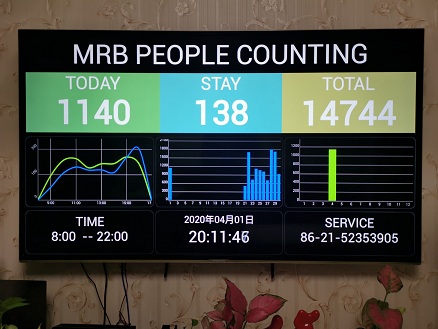 Main Functions of People counting camera
Built-in image anti-shake algorithm, strong environment adaptability;
Algorithm correction function, adaptive lens angle, focus information, allowing a certain angle tilt with the horizontal direction;
Counting accuracy is not affected by customers body form, clothing color, hair color, hat and scarf, etc.
Counting accuracy is not affected by customers passing side by side, crossing passing, and blocking traffic;
Height limit can be set on target, customer baggage error can be filtered;
With the status of the bus door switch as the trigger condition, it starts counting , captures real time statistical data, and stops counting when door is closed;
Possess strong scalability and portability, can be installed according to the number of doors;
Unaffected by the season and weather, unaffected by figure shadows or shades, unaffected by external light, automatically activates infrared fill-in light at night to have the same recognition accuracy;
Easy to install, support 180°installation, strong environment adaptability.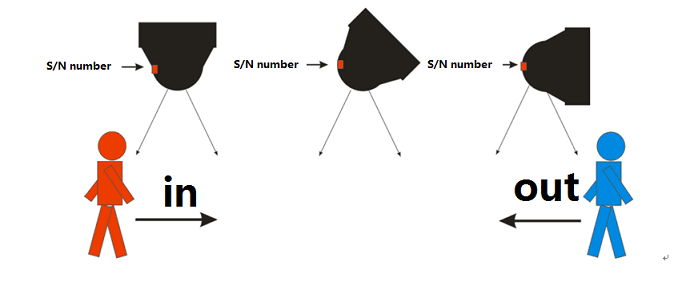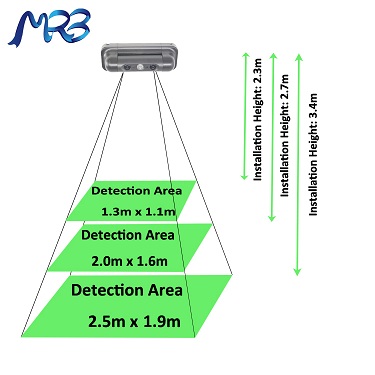 The HPC009 counter uses adjustment software to configure working parameters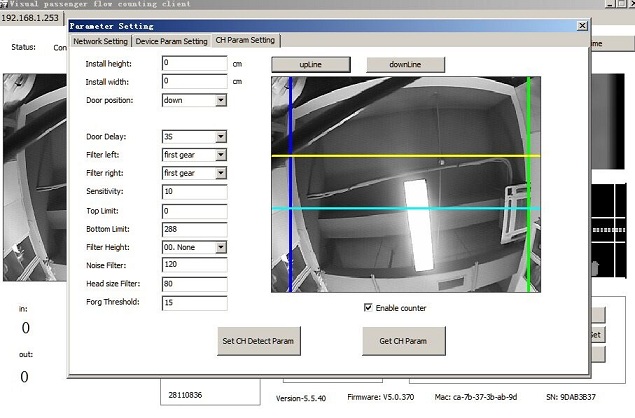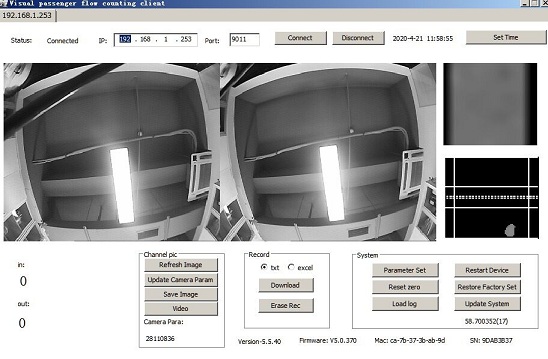 Specification of People counting camera
Project
Equipment Parameters
Performance Indicators
Power supply
DC12~36V
Voltage fluctuations of 15% allowed
Power consumption
3.6W
Average power consumption
System
Operating Language
Chinese/English/Spanish
Operation interface
C/S operation configuration mode
Accuracy rate
95%
External interface
RS485 interface
Custom baud rate and ID, multi machine network supported
RS232 interface
Custom baud rate
RJ45
Device debugging, http protocol transmission
Video output
PAL, NTSC system
Operating temperature
-35℃~70℃
In well ventilated environment
Storage temperature
-40~85℃
In well ventilated environment
Average failure-free time
MTBF
More than 5,000 hours
Installation height
1.9~2.2m
Environment illuminance

0.001 lux (dark environment) ~ 100klux (outdoor direct sunlight), no fill-in light needed, accuracy rate not affected by environment illumination.

Earthquake resistance level

Meets national standard QC/T 413 "Basic technical conditions for automotive electrical equipment"

Electromagnetic compatibility

Meets national standard QC/T 413 "Basic technical conditions for automotive electrical equipment"

Radiation protection

Meets EN 62471: 2008 "Photo-biological safety of lamps and lamp systems"

Degree of protection
Meets IP43 (completely dust-proof, anti-waterjet intrusion)
Heat dissipation
Passive structural heat dissipation
Size
178mm*65mm*58mm