HPC008 automatic head people counting camera system is a set of high-tech system that can intelligently analyze and count passenger flow through video. Video processing, image
processing, pattern recognition and artificial intelligence are the four main technologies of this people counting camera. In order to achieve more accurate passenger flow counting,we
also integrate the calculation method of pedestrian motion feature tracking and capture to conduct high-speed and accurate analysis and processing for people with different heights,
different colors, different speeds and different clothes, Under the correct non-interference installation, the HPC008 People counting camera accuracy can reach more than 98%.

HPC008 Automatic head People Counting Camera system is installed in Shanghai pudong international airport, it works as "black tech"to help solve the problem of waiting too much time to take a
taxi, it reduces the waiting time from 30 mins to 10 mins, please check below reports:
Market
We support customer-flow analysis for retail industry, gallery, park, scenic spots, transportation junction, crowded square and so on.
Technology:
Object-tracking Environment-reference human-detection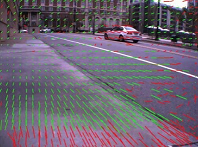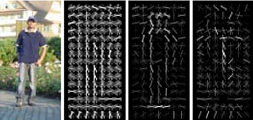 route-creation
With HPC008 camera people counter, You will get:
High accuracy customer-flow data
Detailed data report chart
Real-time customer flow on every floor
Any change of the customer-flow data and average data
How many people in shop now
Customer-flow density at different location
Average stay time of visitor
The rate of purchase
Data can be exported in different form for analyzing and integrating
Specification for Camera People Counter
Item
Specifications
Size
18.9(L)*14.5(W)*5.8(H)CM

Processor
ARM cortex A7>1GHz(28nm)
Sensor
Video Input
cmos /Simplex high definition
Video Compression standard
H.264, YUY2
Video Definition
Adjustable
Image Processing
Exposure Control/ Gain Control/ White Balance/ Gamma Correction
Video Frame rate
30fps
Measuring Range
2m
Installation Height
2.5-5.0m
Port protocol
Network Interface
RJ45, 10M/100M, Adaptive to Ethernet port
Protocol Standard
802.11a or 802.11b/g
Maintenance Interface
Micro USB
SD card
Built-in, 8G~32G
Electronic Clock
Built-in, RTC module
Remote Upgrade
Upgrade By The Website
Physical Parameter

Size
120mm*120mm*48mm
Weight
200g
Adapter
+5V/2A
Power
≤10W/ POE optional
Hardware Monitoring
Hardware Watchdog
Temperature
-20℃~+65℃
Model
| | |
| --- | --- |
| Model | Installation Height |
| HPC008-2.1 | 2.6--2.7 M |
| HPC008-2.5 | 2.8--3.0 M |
| HPC008-2.8 | 2.9--3.2 M |
| HPC008-3.6 | 3.2--3.8 M |
| HPC008-4 | 3.9--4.4 M |
| HPC008-6 | 4.4--5.1 M |
| | The critical height, advised to choose a large lens |
| Remark | This test results is based on persons of average 1.7M |
| | Effective width detection 2M |
Advantages
High Accuracy Rate
95%-98%
1. It counts according to person's head, so it can solve the problem when people walking shoulder by shoulder.
2. It eliminates the invalid pass by setting a counting area.
3. Different camera for different ceiling height.
Data Safety
1. Network-off protection: The data can be saved in the device for 10,000 seconds (about 3 hours), even there is no network.
2. The data can be exported in PNG, JPG, PDF form.
3. Data backup: When the IP address is changed, the data can be backed up.
Data Transmission
1. The data can be transferred to server directly.
2. It can work in WiFi network.
Data Report
1. Detailed valid in-out-stay data.
2. Data from different entrances in different shops can be distinguished.
3. Sales info can be inputted manually. It is convenient for shop to make the commercial solution.
4. With a API, the data can be integrated into POS/ ERP system.
Power Supply
Adapter or POE as your requirement.
Product Show
Full set of HPC008 camera people counter includes camera, processor, software, adapter and other accessories.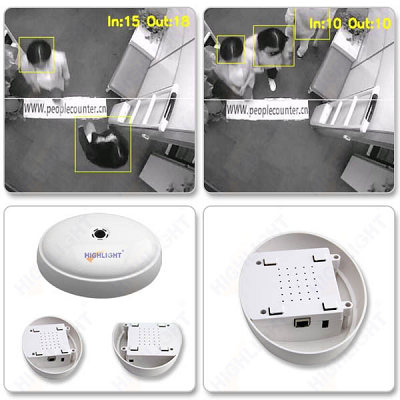 The software of HPC008 people counting camera is free. No matter for a single store or a chain store, all the software is provided free of charge. When you enter the software background of people counting camera products, you can set various details and functions, such as the permission setting of shopkeepers, managers and managers, the setting of chain stores, and the setting of store personnel flow restriction, Alarm setting: according to the setting of automatic door opening and closing of the number of personnel in the store, our HPC008 people counting camera equipment also provides API and protocol for users to connect with their own software platform.
Check data on mobile phone for remote management: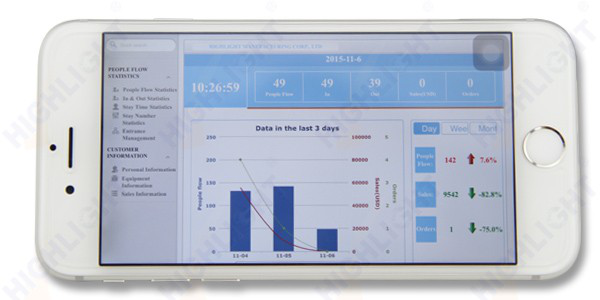 Installation -- Plug and Play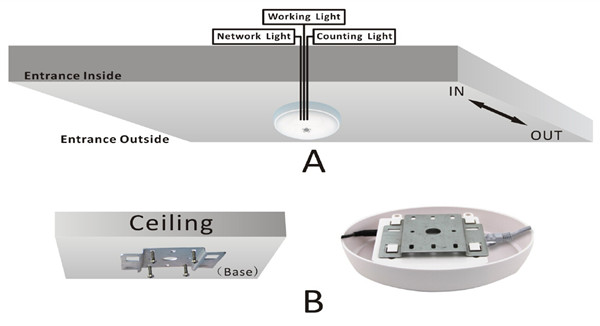 The effective detection width per device is 2 meters. Multiple devices can be installed side by side for wide entrance: